Who pays for online content? UK and US news subscriber insights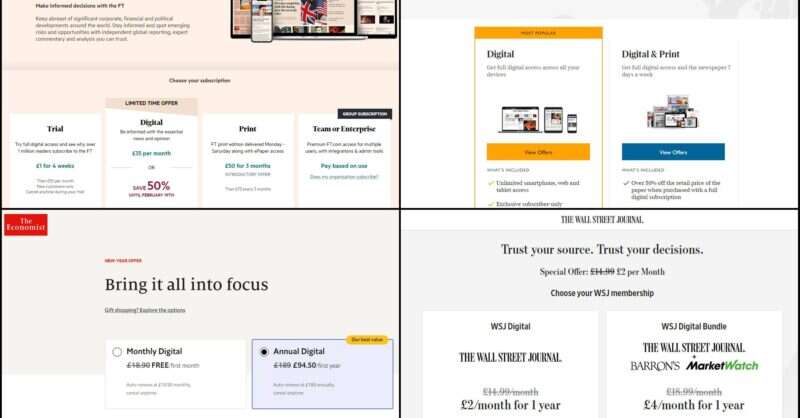 Cost is the most important factor when consumers are deciding when they are more or less likely to pay for an online subscription, according to new research shared exclusively with Press Gazette.
Over a third (39%) of Britons and 42% of Americans reported being tempted by a lower paywall price.
The Yougov poll surveyed 2,100 adults in the UK and 1,232 in the US to understand what kind of websites, including news, consumers are willing to pay for and what makes someone decide to subscribe.
Among UK respondents who have an active paid subscription to any type of website, 13% said they are paying less than £10 every month while 14% of Americans said they were paying less than $10 monthly.
15% of Americans reported paying between $10 to $25 for their subscription, while 10% said they paid a higher price of $26 to $50.
Recent analysis by Press Gazette found the Financial Times is the most expensive consumer digital news subscription in the UK at £319 a year, followed by The Times (£312).
Despite the high price, both newsbrands have seen a growth in their subscriber numbers with the FT first reaching one million paid digital subscribers worldwide in 2022 and News UK-owned The Times and Sunday Times reporting 489,000 digital subscribers at the end of last year.
Exclusive content – often cited as a draw for subscribers – did not feature as high up in the survey. Only a quarter of people in the US and UK said access to things not available elsewhere would be a reason to make them more likely to pay.
A greater share (33% in the US and 28% in the UK) said an advertising-free experience on the site would make them consider subscribing, while 52% in the US and 54% in the UK said too many adverts behind a paywall would put them off parting with their money.
Nearly three-quarters (73%) of Britons have never given money for a website subscription, while 16% currently have an active paid subscription and 12% have done in the past.
Americans were slightly more likely to have paid to access content, with 57% saying they had not bought a subscription. Almost twice as many compared to the UK (29%) said they are currently paying, while 14% have done but are not right now.
The findings echo earlier research from the Reuters Institute in its 2022 Digital News report that showed the UK was among the markets where people were least likely to spend money on online news. Less than one in ten (9%) of people in the UK told the Reuters Institute they had paid for online news compared to an average of 16% across the more than 40 markets surveyed.
When asked about the type of content for which they would consider paying UK and US respondents to the Yougov poll both rated entertainment websites about movies, TV shows, music and games highest. Forty-one percent (41%) of US respondents and 34% in UK said they would consider paying for such websites.
News came third on the list with 21% of Americans and 11% of Britons saying they would consider taking out a paid news subscription.
In the UK, men were more likely to say that entertainment websites (39%) and news (14%) were worth paying for, while women were more willing to pay for education/learning (28%) or lifestyle (12%) websites.
Declining advertising revenues have led some publishers to adopt paywall strategies in recent years, among them The New York Times, which regularly tops Press Gazette's 100k club ranking of publishers worldwide with the most digital subscriptions.
Earlier this year advertising intelligence provider Warc predicted that global advertising revenue for publishers was forecast to decline by 7.7% in 2023 to $47.2bn, down from some $85bn in 2016. The print advertising market has been particularly hard-hit, having halved from $75.9bn in 2016, while digital ad spend while growing has been unable to make up the shortfall due to the dominance of tech platforms.
Email [email protected] to point out mistakes, provide story tips or send in a letter for publication on our "Letters Page" blog