Valvoline's Changes Opens Up Opportunities (NYSE:VVV)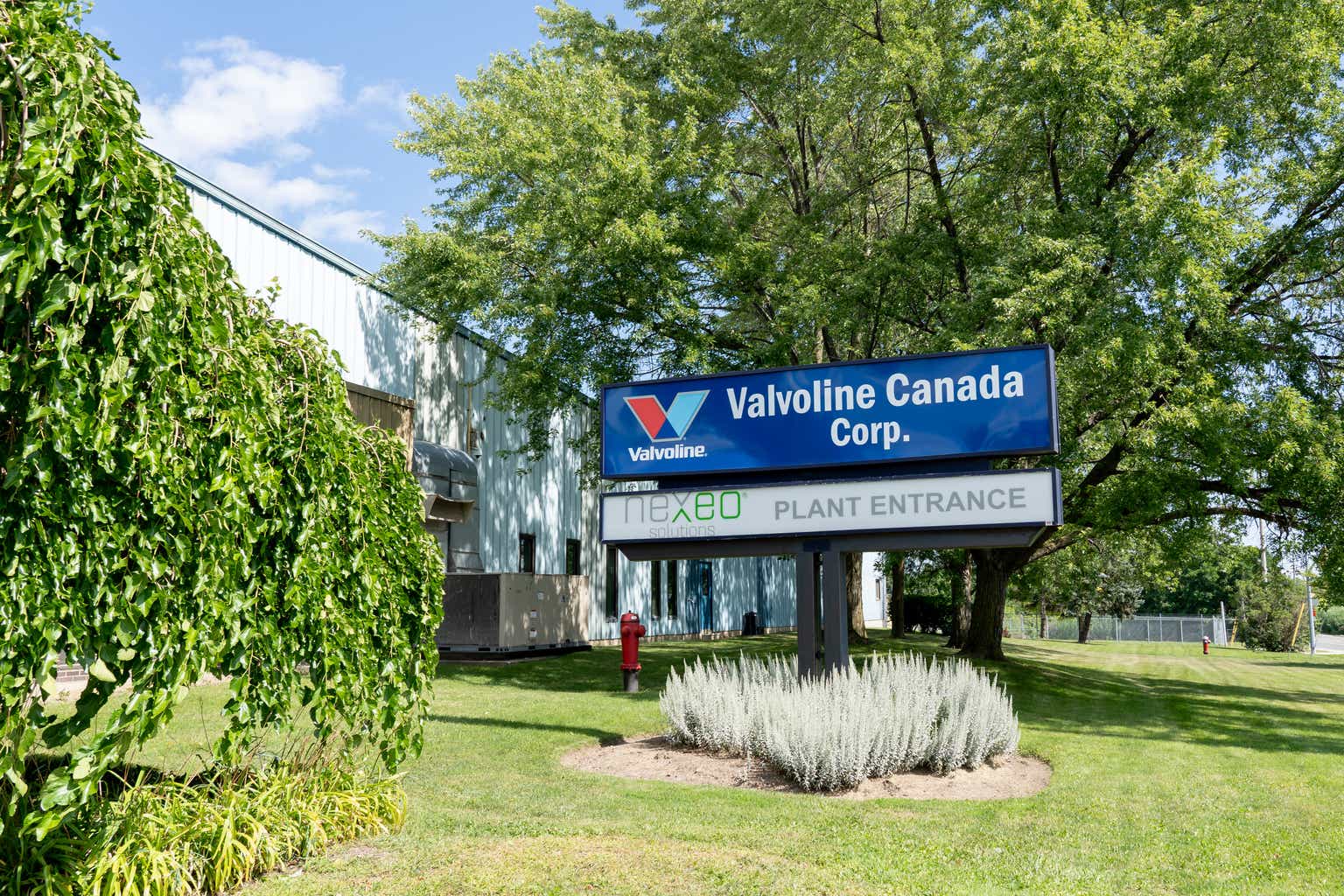 Introduction
Valvoline's (NYSE:VVV) current restructuring into an automobile maintenance shop may allow it to go beyond internal combustion engine maintenance and allow it to prosper in an EV future. However, current valuations are not attractive enough and the uncertainty in how management distributes the proceeds from selling their legacy business increase the risk to the downside.
Company Profile
Valvoline is an interesting company considering how iconic it is. The company primarily focuses on providing oil changes and other automotive services through its both franchised and company-owned locations across the US and Canada.
Valvoline used to be owned by Ashland since 1950 when they acquired the company; however, the company was reincorporated as an entity separate from Ashland with the former parent company retaining a majority stake and executed their IPO on the same year they were incorporated (2016).
However, they were originally founded back in 1866, so it is fair if some people call this company a dinosaur for being ancient. However, it seems that despite being ancient, they managed some significant progress in their strategy. This can be seen in their 10-K filings where they show in their business model how their stores have been growing in numbers while also providing positive growth over the years, in some cases being as high as 20% for some years.
Quant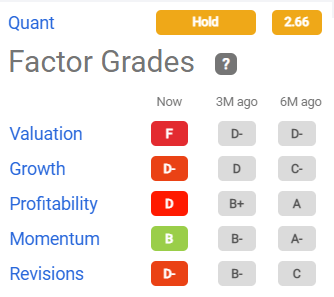 While Wall Street was celebrating Valvoline's continued growth based on the momentum Valvoline has sustained in the last few months, it seems that Quant isn't as excited with Valvoline's progress. Its valuation rating has declined, growth has also worsened, profitability is also in question and revisions have also gone down. It's also worthwhile to note that momentum has also declined, so it seems Quant views this stock a lot less favorably than before.
Now, relying on one tool is not a great investment strategy, especially considering that Quant isn't exactly the best at choosing entry points. It's also not great at timing either, and can be a little fickle.
So, time to see whether I can agree with Quant or not by looking at the company's valuation, growth and profitability and see for myself how each metric stands up. I'll also take a look at the business and its prospects in the future for good measure.
Diversified Convenience
The company's business model is not too complicated considering page 5 of their 2022 10-K filing literally explains what the company as a whole does on a basic level. While explained earlier in this article, the company focuses on three parts of the automobile maintenance cycle: Fluid exchange (motor oil, transmission or differential fluid and coolants), Safety (basically inflating tires or rotating them, performing safety checks or replacing bulbs), and parts replacements (12V batteries, filters, wiper blades and belts). All of them, as seen in the diagram shown below from the same filing, can be performed on a wide variety of vehicles, including EVs.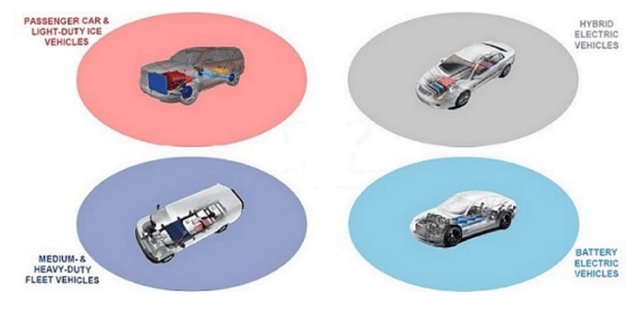 This is good news as Valvoline would definitely be ready to handle the EV evolution even if it means that their fluid replacement segment may end up discontinued in the future as Internal Combustion Engine (ICE) vehicles are slowly replaced with electric cars.
Now, when looking at their business strategy for growing the company, it reminds me a lot of how I'd picture AutoZone (NYSE:AZO) and Advance Auto Parts (NYSE:AAP) as a consumer, as these companies also provide some services that relate to vehicle maintenance. However, I do remember that you can also fix your car beyond the usual maintenance when going to their locations, so I wouldn't expect Valvoline to reach massive heights, especially when AutoZone is an outlier in terms of size.
This also brings to the next topic, which is competition. Their industry is very competitive as it competes with maintenance providers in the same niche (the stay-in-your-car maintenance). We can also peg repair shop chains to that line of competition and any smaller workshops that provide any sort of oil changes, battery changes, tire rotations and the like, and we have a truly divided and intensely competitive market.
This means that just opening new stores is not enough, and so they'll likely have to look for ways to expand their same-store sales; otherwise, they'll have to close some stores. That's never good a picture even if it cuts off the underperformers.
The good news is that the company does not exclusively run its stores, but offers franchisees the chance to run their own stores using the Valvoline brand. This could provide additional revenue, and because the franchisees are different entities in the legal landscape, their operations, costs and inefficiencies will not be reflected in Valvoline's operations.
There is also a good point of growth that helps the investment thesis a lot, which is the reality that they haven't yet expanded internationally. They recently expanded to Canada, but their lack of an international store footprint provides an opportunity for the future.
Profitability
Now, there is no point in going through a certain business model if it doesn't provide results. This is the magic of accounting, as we can see more in-depth how viable a business is.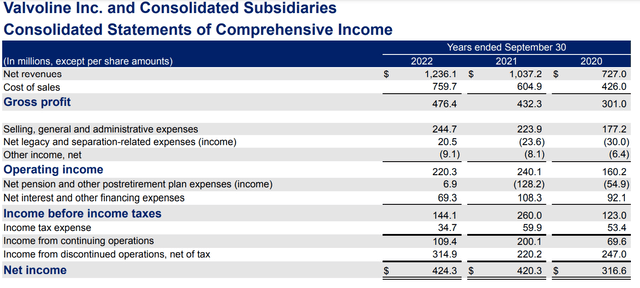 On the surface, their numbers look as good as the table coloring and formatting in their filings. However, if we go into some of the details, at least I notice that their current business is rather volatile when it comes to their net earnings. Why is this?
It's certainly not in the business model itself as gross profit has been steady and consistent with revenues. Selling, general and administrative expenses (SG&A) are also consistent and haven't been growing as much as their revenues lately.
None of their other operating expenses bring much of a lasting effect on operating income, so the problem is not on the operating side of their business, although there is some slight volatility in their operating income.
Seems that their financing, pension and post retirement plans along with the changing amount of taxes paid on 2022 seemed to contribute to the volatility, as before 2022, there were more taxes paid while their last fiscal year had less taxes. They also used to gain income on pensions and post-retirement benefits, which helped inflate 2021's numbers aplenty, with some contributions to their 2020 numbers as well. Seems that the change in this part was drastic enough that decreased taxes and interest didn't offset it enough to stabilize, giving the impression of a profitable business.
How about we remove net pension and other post-retirement expense (income) from the equation and see what their earnings would look like?
| | | | |
| --- | --- | --- | --- |
| | 2022 | 2021 | 2020 |
| Operating Income | 220.3M | 240.1M | 160.2M |
| Net interest and other financing expenses | 69.3M | 108.3M | 92.1M |
| Income before taxes | 151M | 131.8M | 68.1M |
| Income tax expense | 34.7M | 59.9M | 53.4M |
| Income from continuing operations | 116.3M | 71.9M | 14.7M |
Without it, we get a very different picture as to their real post-sale profitability. With a picture like this, it looks like Valvoline is set to grow their net income, and yet at the same time, seems like analysts are projecting a drop in non-GAAP EPS, which can also be seen in Seeking Alpha's Earnings tab for Valvoline.

This could explain why profitability measures have decayed very badly, however, if we look at what happened in the last three years, especially using the filtered measure shown above, it's possible that this company could give a surprise.
Yet, this also would explain the next part: Growth.
Growth
The company has been clearly growing its revenues consistently, and if we exclude certain volatile items in their tables, it is pretty clear that conditions for the company have significantly improved.
If we assume that they continue growing revenue by 20% next year and their net income improved by 30% as they manage to realize new efficiencies, this is what can be expected:
| | | |
| --- | --- | --- |
| | 2022 | 2023 est. |
| Revenue | 1236.1M | 1483.3M |
| Net Income | 109.4M | 142.2M |
This would look really good if the company managed to achieve those metrics or better.
However, if we look at the same estimates given by analysts, things do not seem as bright, which explains why Quant is very close to calling Valvoline a failure (F) on growth as well as it did on profitability.
I'd say that so far, the financial data is rather consistent if we consider the company's continuing operations.
Long Term View and Valuation
The future, however, is rather murky. I do believe it is rather plausible for the company to reach $2 billion in revenues, which might allow it to justify its current valuation by then if it achieves at least $500 million in annual net income.
Currently with both businesses, the company can get very close to that number, which may explain why investors believe Valvoline should have a market cap of $6.35 billion. However, if we go back to the sale of Valvoline's legacy business, there needs to be a major change in valuation.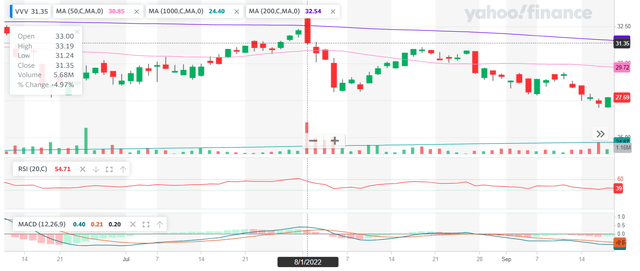 First of all, the transaction is valued at $2.65 billion dollars. Valvoline closed the day prior at $32.22, made a gap in the morning and shed all the gains and then some in the same day to close at $31.35. Using today's share count, the first closing price values Valvoline at $5.62 billion. This means that once the sale completes, Valvoline should have an implied valuation of $3 billion or less.
Considering the adjusted net income table from earlier, this would put Valvoline at a 26x valuation. Also, this explains the major decrease in EPS estimates for Q1… if the transaction were to close before December 31 ended.
The transaction is slated to complete in late 2022 to early 2023. I don't recall seeing any news that the transaction closed nor any filings. If anything, this piece of news talking about Valvoline's global product segment's new product says very explicitly that "Valvoline, as previously announced, has reached an agreement to sell its global products business. The sale is anticipated to close in early 2023." The news article was published on January 27, and as of writing, there hasn't been any other news regarding the transaction.
So, if the company does not buy back enough stock, Valvoline may require a correction to better valuations to justify buying the stock. We also have to take note that, as said in the transaction, the proceeds would be used for paying down debt, share repurchases and investing into their business. I could easily translate this to revaluing the company to better reflect the transaction.
However, with momentum like this that allowed for loftier valuations than August 1st, the most reasonable thing right now would be to pay debt, make a share repurchase authorization for fiscal year 2023, and repurchase stock when the stock price falls below $32, or even $28, which was the immediate bottom after the transaction was announced.
I wouldn't be sure how much stock Valvoline would buy back using the transaction's proceeds, and I don't believe that making an estimate would be reasonable. Instead, we will use some math to estimate a reasonable share count for Valvoline and better reflect the company's transaction value affecting the remaining company's valuation.
As said before, the company should be valued at around $3 billion if we subtract the $2.65 billion of the transaction total from the relative valuation of $5.62 billion achieved back then. This would reduce the company's valuation by 46%, so we can reduce the shares outstanding by that much. This would result in a total share count of 93.5 million.
This would provide a very similar valuation as it was before, slightly above $32 per share. However, that would be around 26x my adjusted net income calculation. It's slightly expensive, so let's reduce that to 20x as a maximum. This means that Valvoline's fair value lies at around $25 per share using these estimates, especially if net income and revenue were to stagnate against the company's estimates of growing at 20%.
With a current share price of $36, I believe that there may come a time when reality may kick in and correct the valuations of Valvoline. It's certainly not for buying right now and if an investor doesn't have the stomach to lose around 30% of their equity in this company should such a correction materialize, it's better to sell the company.
Conclusion
So, to answer the question posited earlier, do I agree with Quant? Somewhat. I'd say that my rating would be a hold, but if we use Seeking Alpha's spectrum, that hold more or less lies around 2.7, so it's leaning towards a sell.
However, I do disagree with the company's profitability being rated F, as the company has been able to make money even in GAAP terms. I'd say that their profitability would be a C+ as they're using more cash in investing and financing activities than they get from their operations, yet their profitability is relatively good.
Their growth, however, is a fair debate. While as a whole their consistency has been in question, if we eliminate for any volatile items that don't play into the company's actual operating conditions, they have shown to improve their net income margins greatly. However, if their revenue stagnates as estimates have shown, that could put the growth story in question and cause the stock price to correct as market makers re-evaluate the company's valuation. If I were to rate it like quant, it would get a D+ for now.
As for valuations, there is a decent risk to the downside, however it truly depends on how fiscal year 2023 plays out. I would not say it is an F, but it is closer to a D.
So, if I rate the company so poorly, why a hold? Well, I believe that Valvoline may have a bright future ahead that may be able to offset any near-term losses. Yet, some discipline is necessary to ensure that a good entry point is chosen and a good average price is sustained. The risk to the downside exists, but unlike options, holding a share of a company has no expiration date unless Valvoline uses Chapter 7 to liquidate their assets, which is not in the books for now unless management fails to adequately manage their resources.
Finally, I give Valvoline a price target of $25 for now.