Summary of the day so far …
Russia's defence ministry said early on Thursday it had downed 11 Ukrainian drones near Crimea overnight, as well as two drones flying toward the capital Moscow. It said two Ukrainian drones were shot down near the city of Sevastopol on the Crimean coast, and "another 9 were suppressed by means of electronic warfare and crashed in the Black Sea". The ministry said there were no reports of damage or casualties in any of the affected areas.

Ukraine claims to have shot down seven of ten "Shahed" drones launched at it overnight by Russia. Air defence was said to be active in Kyiv region and Khmelnytskyi.

Six residents of Bilozerka in the Kherson region have been hopitalised after Russian artilerry fire hit people receiving humanitarian aid, according to regional governor Oleksandr Prokudin.

Three people are now known to have died after a Russian missile attack on the Ukrainian city of Zaporizhzhia late on Wednesday. Two young women and a man were killed and nine other people were wounded, Ukrainian officials said on Thursday. Zaporizhzhia city council secretary Anatoliy Kurtev said a church had been destroyed and about 15 high-rise buildings had been damaged. The authorities received requests from residents of at least 400 apartments to repair smashed windows and damaged balconies.

Russian drones destroyed a fuel depot in Ukraine's western Rivne region on Thursday, governor Vitaly Koval wrote on the Telegram messaging app.

Ukraine's Russian-occupied Zaporizhzhia nuclear plant again lost connection to its last remaining main external power line overnight and was switched to a reserve line, state-owned power generating company Energoatom said on Thursday. Additionally, the station's Russian-installed administration said the Number 4 reactor had been moved from a "hot" to a "cold" shutdown because of signs of a steam leak.

The co-founder of Russian internet giant Yandex, Arkady Volozh, condemned what he described as Russia's "barbaric" invasion of Ukraine, days after criticism in Russia over his apparent efforts to distance himself from the country. Volozh described himself as a "Kazakhstan-born Israeli tech entrepreneur" on a personal website, drawing some criticism in Russian media and on the Telegram messenging platform for apparently playing down his links to Russia. "Russia's invasion of Ukraine is barbaric, and I am categorically against it," Reuters reports Volozh said in a statement. "I am horrified about the fate of people in Ukraine – many of them my personal friends and relatives – whose houses are being bombed every day."

Poland is planning to move up to 10,000 additional troops to the border with Belarus to support the Border Guard, the defence minister, Mariusz Błaszczak, said on Thursday. "About 10,000 soldiers will be on the border, of which 4,000 will directly support the Border Guard and 6,000 will be in the reserve," the minister said in an interview for public radio. "We move the army closer to the border with Belarus to scare away the aggressor so that it does not dare to attack us," Błaszczak said. Last week Poland said Belarusian helicopters had violated its airspace and has warned of provocations.

The UK Ministry of Defence has claimed Russian authorities have stepped up efforts to block citizens' access to virtual private networks (VPNs), which allow people to bypass restrictions on the internet. It notes "VPNs are hugely popular in Russia, despite being illegal since 2017. They allow users to access objective international news sources, including about the war in Ukraine."
Key events
Six residents of Bilozerka in the Kherson region have been hopitalised after Russian artilerry fire hit people receiving humanitarian aid, according to regional governor Oleksandr Prokudin.
Bilozerka is to the west of the city of Kherson, opposite the currently occupied left-bank of the Dnipro River.
Reuters is carrying a little bit more detail about the situation at the Zaporizhzhia nuclear power plant. Earlier, Ukraine's Energoatom said that Europe's largest nuclear power plant was on the verge of a blackout as it had been switched to a reserve power line that less than half of the power capacity of the main power line.
Now the station's Russian-installed administration said the Number 4 reactor had been moved from a "hot" to a "cold" shutdown because of signs of a steam leak.
One of the six reactors needs to be in "hot shutdown" to produce steam for the plant's own needs.
"Plant personnel found signs of leaks in the pipe section of steam generator No. 3," the administration said on Telegram. "To meet the steam auxiliary needs of the Zaporizhzhia nuclear power plant, the transfer of power unit No. 6 to a 'hot shutdown' state is being considered."
The co-founder of Russian internet giant Yandex, Arkady Volozh, on Thursday condemned what he described as Russia's "barbaric" invasion of Ukraine, days after criticism in Russia over his apparent efforts to distance himself from the country.
Volozh described himself as a "Kazakhstan-born Israeli tech entrepreneur" on a personal website, drawing some criticism in Russian media and on the Telegram messenging platform for apparently playing down his links to Russia.
"Russia's invasion of Ukraine is barbaric, and I am categorically against it," Reuters reports Volozh said in a statement. "I am horrified about the fate of people in Ukraine – many of them my personal friends and relatives – whose houses are being bombed every day.
"Although I moved to Israel in 2014, I have to take my share of responsibility for the country's actions," wrote Volozh, who holds both Russian and Israeli passports.
He stepped down as CEO and left the board of directors after the EU included him on its list of sanctions against Russian entities and individuals in June 2022. Volozh called the EU's decision "misguided".
Three people are now known to have died after a Russian missile attack on the Ukrainian city of Zaporizhzhia late on Wednesday. Two young women and a man were killed and nine other people were wounded, Ukrainian officials said on Thursday.
Reuters reports officials said two of the people had been killed on the spot and a woman had died overnight at a hospital. A Reuters reporter at the scene saw emergency workers lifting a body, putting it on a stretcher, and wrapping it into a black body bag. Rescuers sifted through debris and an ambulance was parked near damaged buildings.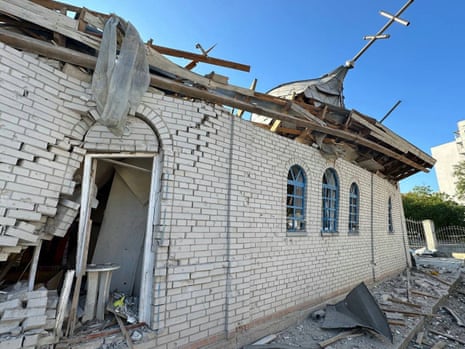 Zaporizhzhia city council secretary Anatoliy Kurtev said the church had been destroyed and about 15 high-rise buildings had been damaged. The authorities received requests from residents of at least 400 apartments to repair smashed windows and damaged balconies.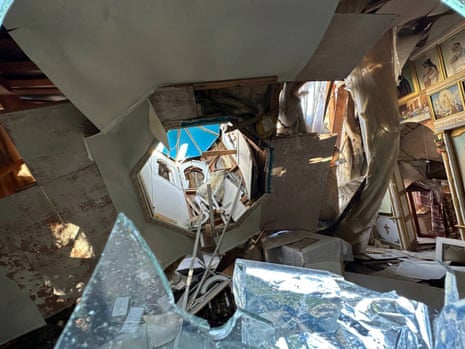 Interfax in Russia reports that in a statement the company who own the Zagorsk optical and mechanical plant in Sergiev Posad said it had suffered "significant damage", adding that "it is still difficult to make an accurate assessment of it". Russian media reports that 12 people are considered missing as a result of an explosion.
Ukraine's Russian-occupied Zaporizhzhia nuclear plant again lost connection to its last remaining main external power line overnight and was switched to a reserve line, state-owned power generating company Energoatom said on Thursday.
Reuters reports Energoatom said that Europe's largest nuclear power plant was on the verge of a blackout as the reserve line had less than half of the power capacity of the main power line.
"Such a regime is difficult for the reactor plant, its duration is limited by the project's design and it can result in failure of the main equipment of the energy unit," Energoatom said on Telegram.
Zaporizhizhia nuclear power plant with its six reactors has been controlled by the Russian military since the early days of Moscow's invasion in February 2022. Both sides have repeatedly accused the other of endangering the safety of the plant, where Ukrainian staff have continued to work under the duress of the occupation.
Suspilne offers this morning round-up of latest news about the war:
At night, the Russian army released ten "Shahed" drones over Ukraine. The air force reported air defence managed to destroy seven.

Air defence was active in Kyiv region at night. There were no hits, no casualties. Air defence forces also worked in the Khmelnytskyi region.

The Russian army shelled the village of Kindrashivka in the Kharkiv region – two people were injured. Kupiansk was also hit by a guided aerial bomb, and the city council building was damaged.

At night, the Zaporizhzhia nuclear power plant lost power from the main external power transmission line. Energoatom reported it was switched to the only available backup line.
Poland is planning to move up to 10,000 additional troops to the border with Belarus to support the Border Guard, the defence minister, Mariusz Błaszczak, said on Thursday.
"About 10,000 soldiers will be on the border, of which 4,000 will directly support the Border Guard and 6,000 will be in the reserve," Reuters reports the minister said in an interview for public radio.
"We move the army closer to the border with Belarus to scare away the aggressor so that it does not dare to attack us," Błaszczak said.
The deputy interior minister, Maciej Wąsik, had said on Wednesday that Poland would send 2,000 additional troops to its frontier with Belarus.
Suspilne, Ukraine's state broadcaster, reports that 28 explosions in the Sumy region were recorded overnight due to Russian shelling, but that no casualties have been reported.
Russian government stepping up efforts to stop VPN use, says UK Ministry of Defence
The UK Ministry of Defence has posted its daily intelligence briefing, saying that Russian authorities have stepped up efforts to block citizens' access to virtual private networks (VPNs), which allow people to bypass restrictions on the internet.
"Reports suggest many of the most popular VPNs have become unusable in some regions of Russia," the MoD tweeted.
"VPNs are hugely popular in Russia, despite being illegal since 2017. They allow users to access objective international news sources, including about the war in Ukraine."
The update notes that in addition to restricting access, Russia has mounted a scare campaign about the dangers of VPNs.
"As well as increased technical disruption, the Russian state has also launched a public information campaign, attempting to scare citizens into avoiding VPNs by claiming they put their personal data at risk," the MoD said.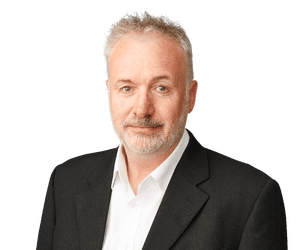 Julian Borger
By turning food into a weapon Russia has resorted to one of the oldest forms of warfare. Ancient armies burned the granaries of their foes to starve them into submission.
In this case, Ukraine's economy has been further damaged and Russian exports have fetched higher prices. But the threat of starvation is thousands of miles away in the very poorest countries, that could be pushed further towards famine by higher prices and fewer humanitarian deliveries.
Ukraine provided half the wheat the World Food Programme (WFP) bought on global markets, which it shipped to people most in need in Afghanistan, Ethiopia, Kenya, Somalia, Sudan and Yemen. It was good quality, cheap and quick to ship from Odesa through the Bosphorus into the Mediterranean, then through the Suez Canal to Yemen and the Horn of Africa. The WFP now has to buy grain at a higher price and transport it from ports much further away: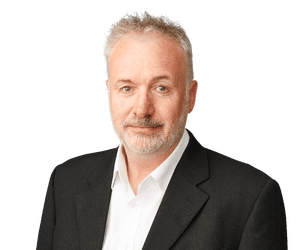 Julian Borger
After failing to conquer Ukraine by conventional means, Russia tried an energy war, trying to hobble the power grid and freeze the nation into submission. Now it has launched a food war.
The mining of the Kakhovka dam in June threatens to turn southern Ukrainian farmland into a dustbowl. Since Moscow pulled out of an UN-brokered deal to allow Ukrainian grain exports through the Black Sea last month, it has announced a naval blockade of the country's ports, and directly targeted food (destroying 220,000 tonnes of cereals awaiting export in silos) on the sea coast but also inland with attacks over the past two weeks on the Danube ports of Reni and Izmail.
The global cereal price index rose 10% in late July after Russia torpedoed the Black Sea grain initiative (BSGI), blocking a route that carried 32m tonnes over a year, more than half Ukraine's total grain exports.
Some traders believe prices will have risen 20% by the end of the summer. Turkey's president, Recep Tayyip Erdoğan, has appealed to Vladimir Putin to reconsider, but few involved in the grain business are optimistic that the deal can be revived:
More now on the drone strikes in Russia.
Until a series of attacks in recent months, Moscow had not been targeted during the conflict in Ukraine, which began more than a year ago, AFP reports.
The Russia-annexed Crimean peninsula, however, has been disrupted by several strikes throughout the hostilities, and has seen more frequent attacks in recent weeks.
Russia said Saturday it had downed a drone over the ocean near Sevastopol, the base of its Black Sea fleet.
In July, Ukrainian drone strikes on Crimea blew up an ammunition depot and damaged the bridge across the Kerch Strait linking the peninsula to Russia's mainland.
Ukrainian President Volodymyr Zelenskiy warned last month that "war" was coming to Russia, with the country's "symbolic centres and military bases" becoming targets.
Russian drones destroy oil depot in Ukraine, say authorities
Meanwhile Russian drones destroyed a fuel depot in Ukraine's western Rivne region on Thursday, governor Vitaly Koval wrote on the Telegram messaging app.
There were no casualties from the attack, he said, standing in front of the burning site in a video.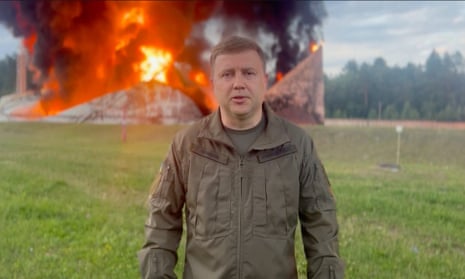 Russia says downed 11 Ukrainian drones near Crimea, plus 2 headed to Moscow
Russia's defence ministry said early on Thursday it had downed 11 Ukrainian drones near Crimea overnight, as well as two drones flying toward the capital Moscow, AFP reports.
"Two UAVs (unmanned aerial vehicles) flying in the direction of the city of Moscow were destroyed," the ministry said in a statement on Telegram.
It said two Ukrainian drones were shot down near the city of Sevastopol on the Crimean coast, and "another 9 were suppressed by means of electronic warfare and crashed in the Black Sea".
The ministry said there were no reports of damage or casualties in any of the affected areas.
The strikes come a day after Russia said two Ukrainian combat drones headed for Moscow were shot down, and constitute at least the fourth attack near the capital within a week.
Hello and welcome to the Guardian's live coverage of the war in Ukraine with me, Helen Sullivan.
Russian air defences shot down two drones targeting Moscow in the early hours of Thursday morning, the city's mayor has said.
In the latest attack on the Russian capital, a drone was shot down in the Kaluga region south-west of Moscow and a second was shot down on Moscow's central ring road, Sergei Sobyanin posted on Telegram.
Meanwhile, Russian forces also downed 11 drones near Sevastopol, the city in Crimea which serves as Russia's Black Sea navy base, the RIA news agency cited the Russian defence ministry as saying.
Russia usually blames such attacks on Ukraine, which usually refrains from commenting. However, drone strikes targeting Moscow and Russian occupied Crimea have recently increased in frequency and last month Ukrainian president Volodymyr Zelenskiy warned that "the war is returning to the territory of Russia".
In other developments:
An explosion on the grounds of a factory north of Moscow that previously made optical equipment for the Russian military killed one person, wounded 60 others and left at least eight people unaccounted for, officials said. No official explanation was given for the explosion in the city of Sergiev Posad, which produced a tall plume of black smoke and added to jitters over recent night-time drone attacks on Moscow.

Ukrainian forces have made an attempt to cross the Dnipro river dividing liberated and occupied Kherson potentially breaching what has for months served as the frontline in the south of Ukraine. Russian military bloggers reported that up to seven boats, each carrying around six to seven people, landed near the settlement of Kozachi Laheri, east of Kherson city, and broke through Russian defensive lines.

Two people were killed and seven injured in an apparent missile attack by Russia on the Ukrainian city of Zaporizhzhia. Ukrainian officials said Russia targeted a residential area and a video posted by Ukrainian president Volodymyr Zelenskiy showed smoke billowing from burning and badly damaged buildings next to a church.

Thirty secondhand Leopard I battle tanks are to be refurbished by the arms manufacturer Rheinmetall at the orders of the German government and exported to Ukraine, a spokesperson for the company has confirmed. The tanks are part of a fleet of 49 vehicles that the Düsseldorf-based company bought from the Belgian private defence company OIP Land Systems.

Germany and Ukraine have also agreed on the supply of two additional Patriot air defence missile systems to Kyiv, Zelenskiy said in his latest evening address. "This will definitely bring us closer to creating a full-fledged air shield for Ukraine. This will help people, cities, villages," Zelenskiy said.

German prosecutors meanwhile arrested an officer from the military procurement agency on suspicion of passing secret information to Russian intelligence, the federal prosecutor's office said. Germany, one of the largest providers of military hardware to Ukraine, is a major target of Russian spying operations, which have grown in scale since Russia's 2022 invasion of Ukraine, authorities have warned.

The US and Canada imposed new sanctions on Belarus over its human rights abuses and support for the war in Ukraine. The new US measures include action against the state carrier Belavia and target a tobacco mogul close to president Alexander Lukashenko as well as 101 officials accused of subverting democracy.

Two Ukrainian combat drones headed for Moscow were shot down, Russian officials said on Wednesday, the latest attack targeting the capital. Moscow mayor Sergei Sobyanin said on Telegram, "Two combat drones' attempt to fly into the city was recorded. Both were shot down by air defence".

One person was killed by Ukrainian shelling in the border village of Gorkovsky, Vyacheslav Gladkov, the governor of Russia's Belgorod region on Ukraine's northeastern border, said. Belgorod has suffered frequent artillery and drone attacks in the last few months, and in May saw an armed cross-border
incursion by a raiding party purportedly consisting of Russian nationals.

Moscow accused Poland and Finland of threatening its security on Wednesday and vowed a response to multiplying "threats" on Russia's western frontier from Nato members. "Threats to the military security of the Russian Federation have multiplied in the western and northwestern strategic directions," defence minister Sergei Shoigu said at a meeting with military officials. Those risks "require a timely and adequate response," he added.

Warsaw earlier announced it would send an additional 2,000 troops to its eastern border to join the 2,000 soldiers already stationed there, as it strengthens its border with Belarus after it became a new base for the Russian Wagner mercenary group. Last week Poland said Belarusian helicopters had violated its airspace and has warned of provocations from Belarus.