One of Lizzo's former backup dancers who has filed a lawsuit against the singer has said she is "contradicting everything she stands for behind the scenes".
The trio of dancers claim the singer pressured one of them into touching a nude performer at an Amsterdam club, as well as falsely accusing them of drinking on the job.
The lawsuit also accuses the captain of Lizzo's dance team, Shirlene Quigley, of attempting to convert the performers' religious beliefs and deriding those who had premarital sex, and also sharing lewd sexual fantasies and publicly discussing the virginity of one of the complainants.
Two of the performers, Arianna Davis and Crystal Williams, began performing with Lizzo after competing on her Amazon reality show "Watch Out for the Big Grrrls" in 2021 but were both later fired.
The third, Noelle Rodriguez, was hired in the same year after performing in the video "Rumours" but resigned earlier this year.
Lizzo, whose real name is Melissa Jefferson, is known for embracing body positivity, but Ms Davis claims the star made comments about her putting on weight before firing her.
She told CBS News when she expressed she was "proud" of herself for her work on the tour, Lizzo said she was "worried" about her at one point because Ms Davis had put on weight.
"I believe she was trying to allude to the fact that I was gaining weight in a way that she wouldn't get cancelled, if that makes sense," Ms Davis said.
"It was not a like, 'you're fat, you're fired.' It was never 'you're gaining too much weight,' it was never blatant, it was very nuanced."
Ms Davis claims Lizzo told the dancers they should be grateful because dancers would typically get fired if they gained weight.
Read more:
Ex-Coronation Street star hits back after 'bizarre' row over free cakes
Dua Lipa facing fresh copyright lawsuit over hit song
'She's contradicting everything she stands for behind the scenes'
Ms Williams said Lizzo's message of body positivity and equality for different races and genders made it her "absolute dream job".
"We had this high start, and then over time, as reality kind of sets in and you're seeing that everything is not the way it seems, that there's a lot of things that go on behind the scenes, your ideas of things quickly start to shift," she told CBS News.
"Everything that she stands for as an artist is a big reason as to why I think people stand behind her as much as they do.
"To me, I just couldn't sit with the fact that this was happening behind the scenes, and this is a big part of her fan base, but she's kind of contradicting everything she stands for behind the scenes."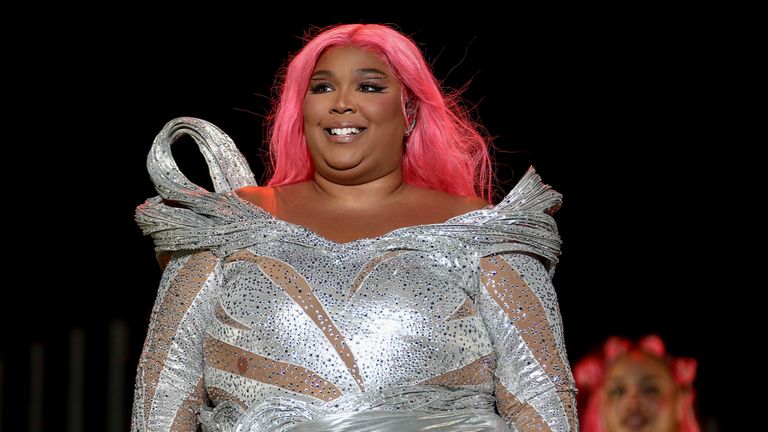 'Pressured into touching a nude performer'
The dancers said Lizzo and Ms Quigley pressured them into going to a show in Amsterdam's red light district, with Ms Davis saying she and Ms Rodriguez were pressured into touching a nude performer.
Ms Davis said she tried to ignore what was going on but Lizzo singled her out, chanted her name and pressured her to touch the performer even though she said no multiple times.
"She was kind of going around, inviting people to touch the nude performers. And I guess it was my turn," Ms Davis said.
She added: "I briefly touched (the performer), and everyone started laughing. It was funny to them, because me, of all people, they see me as a very modest person. Me touching a nude person was hilarious to them."
She said she was "mortified".
'Falsely accused of drinking before shows'
The dancers also said they were falsely accused of drinking before shows, telling CBS News that "was never the case".
"In fact, alcohol was never even allowed in our dressing room or on our rider, which is the food and drinks provided to us. So, it was physically impossible for us to do that," Ms Davis said.
"But we were the ones that were blamed for drinking on the job. It was stated to us, by Lizzo, she was like, 'It doesn't matter if I am doing it, doesn't matter if the band, or anyone else is doing it, you guys can't do it.'"
They said they denied the accusations to Lizzo but Ms Davis and Ms Williams were soon let go from their jobs.
Lizzo is yet to comment publicly on the allegations.