Key events
45 min: There will be two added minutes.
43 min: Hasegawa rolls a delicious pass down the inside-left channel for Endo, who should collect and bear down on goal … but she misreads and allows the ball to sail out for a goal kick. Norway were undone there. Endo smiles wryly, knowing that was a great opportunity. It would have been a picture-book goal.
41 min: The ball sits up for Shimizu on the right-hand edge of the box. She aims a rising shot towards the top left. Mikalsen is beaten but the ball sails over the bar.
40 min: A little pocket of space for Nagano, 25 yards out. She thinks about shooting but slips a pass down the left channel for Miyazawa instead. Mjelde gets across to slam the door shut.
38 min: Japan get back to pinging it around in the patient style.
36 min: Roman Haug wins another header on the edge of the Japanese box. The ball's shuttled wide right to Caroline Hansen, whose cross is cleared easily enough. Norway haven't attacked much, but when they have, they've done so with purpose.
34 min: Back on the field of play, Japan continue to press and probe without making any significant inroads.
32 min: The crowd get a Mexican wave going. No doubt the sort of thing to irk the purists, but it sounds like everyone's having a wild party, so good for them. Actually, good for them for irking the purists, too.
30 min: Hasegawa drops deep before sending a long diagonal towards Shimizu on the right. Shimizu has the beating of Hansen but miscontrols and sends the ball out of play for a goal kick. Norway look a little bit more comfortable at the back since the equaliser.
28 min: Japan stroke the ball around patiently. Suddenly they speed it up as Fujino takes on Hansen down the right. The corner's taken short then rolled into the box for Tanaka, who can't sort her feet out to get a shot away in time. Norway clear their lines.
26 min: … but Norway have gained confidence after the equaliser. Roman Haug wins a header that nearly releases Haavi down the middle, then Reiten pearls a shot wide left from distance. Good game, this.
24 min: Japan don't look particularly ruffled at being pegged back, though. Hasegawa creams a delightful diagonal pass towards Endo on the left. Playmaking that oozes confidence. Then Tanaka pings one wide right from 25 yards.
22 min: Reiten's header was right in the corner. Yamashita had no chance whatsoever. Just a wonderful goal, and one that came very much against the run of play. It had been all Japan from the get-go.
GOAL! Japan 1-1 Norway (Reiten 20)
Norway attack for the first time … and Japan's defence is breached at this World Cup for the first time! Risa is sent scampering down the right. She reaches the byline and pulls back a cross. Reiten rises and plants an unstoppable header across Yamashita and into the top left! That's one hell of a finish, and out of nowhere, Norway are back in it!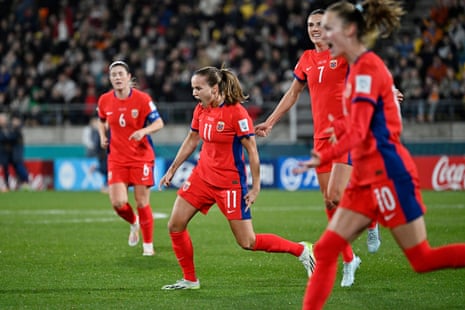 19 min: Hansen ships possession carelessly in the centre circle, allowing Miyazawa to tear towards the Norwegian box. Harviken blocks the eventual shot. Japan come again, Endo crossing from the left. Mikalsen slaps the ball out for a corner, but is then awarded a free kick, Tanaka having been a bit too eager in the challenge.
17 min: To be fair to Engen, Fujino was making a dangerous run in behind her, and would have been favourite to get to the cross first, had an intervention not been made. Engen had to play the ball.
GOAL! Japan 1-0 Norway (Engen og 15)
A goal had been coming, but this is kind of farcical. Miyazawa turns up on the left flank. She cuts inside and crosses. Engen sticks out a leg to block only to send the ball bouncing slowly towards the bottom left. Mikalsen is out of position and isn't able to spin and scramble back to scoop away in time. The ball rolls apologetically into the net, and Japan lead.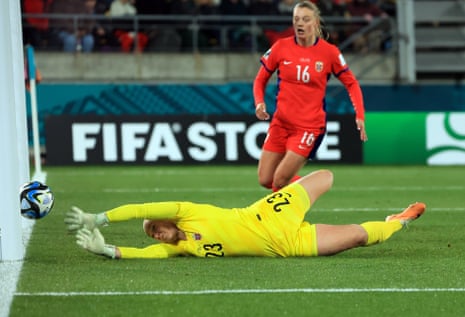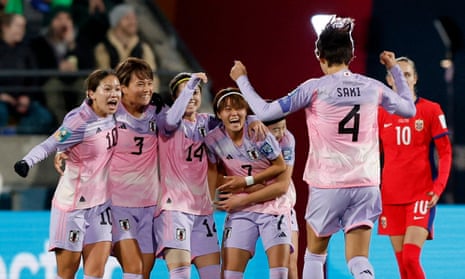 14 min: Endo tears down the left again and wins a corner. Fujino curls it in. Tanaka wins a header and sends the ball towards the bottom right. Roman Haug blocks on the line and clears. She's not been able to show in attack yet, but already Roman Haug has two big defensive contributions to her name. A different sort of hat-trick is on.
12 min: Miyazawa works her way down the left and wins another Japanese corner. It's worked back down the flank then floated into the box by Nagano. Kumagai competes on the right-hand edge of the six-yard box. Roman Haug is forced to concede another corner. Nothing comes of that one, but Japan are turning up the heat now.
10 min: Roman Haug, the hat-trick hero of Norway's last match, against the Philippines, takes her first touch of the evening. It's not of the ball, but the back of Shimizu's legs. Norway can't get into this game at all.
8 min: The shots keep coming in from all angles. Miyazawa has a dig from 25 yards, the ball flying a ways wide right.
6 min: Endo makes good down the left and whistles a low cross into the middle. Norway clear in a panic but the ball finds Shimizu out on the right. Shimizu sends what shall be charitably described as a speculative shot across Mikalsen in the Norway goal and quite a long way over the bar.
4 min: Japan are seeing quite a lot of the ball in these early exchanges. The possession stats are unlikely to mirror the ones from the Spain game.
2 min: Nothing comes of the corner but that's a gauntlet thrown down immediately by Japan. Norway looked a little shaky at the back there.
1 min: Japan are on the front foot immediately, Fujino making a nuisance of herself down the inside-right channel. She crosses low, and Mikalsen has to paw away from Miyazawa. Japan quickly come again down the same flank and win the first corner of the game.
Japan get the party started. A wonderful atmosphere in Wellington. Meanwhile here's Rob Logie: "The pennant is a Yatagarasu, a three legged (count 'em) crow from East Asian mythology, beats an eagle hands down."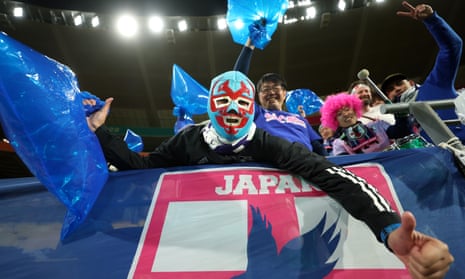 The teams are out. Anthems first, as Kimigayo (His Imperial Majesty's Reign) and Ja, vi elsker dette landet (Yes, we love this country) are performed with the requisite gusto. Football next!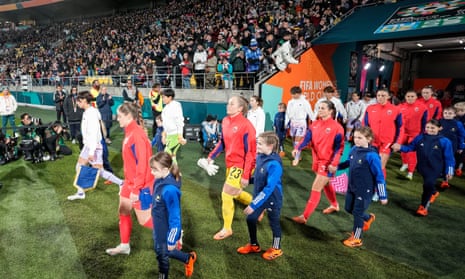 The kits. Japan will switch out of their first-choice blue shirt into pink and purple tonight …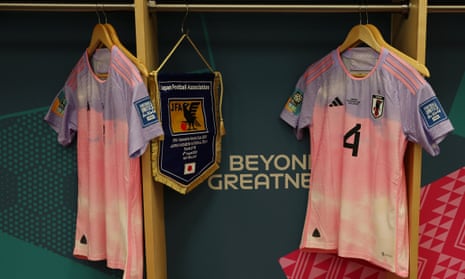 … but Norway get to wear their favoured red. However the Japanese win the pennant showdown with ease; their eagle is brooking no nonsense and not handing over that ball any time soon.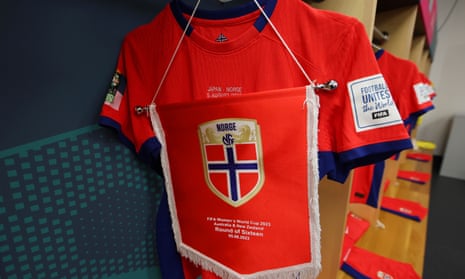 The Norwegians have a job on their hands tonight. They're ranked number 16 in our power list, which is topped by … Japan. For reference, Spain are eighth in the list, and they've just battered Switzerland 5-1.
Japan make three changes to the XI that started the 4-0 win over Spain. Mina Tanaka Aoba Fujino replace Hikaru Naomoto and Riko Ueki up front, while Yui Hasegawa gets the nod over Honoka Hayashi in midfield.
Norway make one change to the team that began the 6-0 victory over the Philippines. Ingrid Syrstad Engen comes in for Frida Maanum. Sophie Roman Haug retains her place up front ahead of Ada Hegerberg, who has been back in training after her groin injury but isn't deemed fit enough to start.
Japan: Yamashita, Takahashi, Kumagai, Minami, Shimizu, Nagano, Hasegawa, Endo, Fujino, Mina Tanaka, Miyazawa.
Subs: Momoko Tanaka, Miyake, Sugita, Naomoto, Ueki, Hayashi, Seike, Moriya, Hamano, Chiba, Ishikawa, Hirao.
Norway: Mikalsen, Bjelde, Mjelde, Harviken, Tuva Hansen, Engen, Risa, Reiten, Caroline Hansen, Haug, Haavi.
Subs: Fiskerstrand, Sonstevold, Horte, Bergsvand, Saevik, Hegerberg, Eikeland, Blakstad, Maanum, Lund, Josendal, Pettersen.
Referee: Edina Alves Batista (Brazil).
Japan have brought their a-game to the 2023 Women's World Cup. Their record in the group stage was nigh-on perfect: a 5-0 rout of Zambia, a 2-0 breeze past Costa Rica, and a 4-0 thrashing of Spain, the latter a patient and brilliantly executed smash-and-grab job requiring just 22 percent of possession. With playmaker Riko Ueki and golden-boot favourite Hinata Miyazawa in fine fettle, they're the hip choice to go all the way and add to their 2011 victory.
Norway haven't been quite so impressive. They started their campaign with a shock 1-0 defeat to co-hosts New Zealand, followed by a jittery goalless draw with Switzerland, but a 6-0 spanking of the Philippines steadied the ship and provided succour, and their star turn Ada Hegerberg is fit again after a groin strain. Will she replace Sophie Roman Haug, who scored a hat-trick against the Philippines? A nice conundrum for coach Hege Riise to have as she works out how to break through the parsimonious defence of the Nadeshiko.
Kick off is 8pm in Wellington, 5pm in Tokyo, 10am in Oslo, 9am BST. It's on!