Key events
"I can't cope with the pressure. I'm off to bed. But I can't help but feel there's a number of plot twists still to come…"
Rowan Sweeney sent this from Down Under just before that incident.
BIG MOMENT: Smith dropped by Stokes, take a look for yourself.
LUNCH: Australia 238-3 (Aus require 146 runs to win)
Ben Stokes has dropped Steve Smith! Drama on the stroke of lunch – Moeen gets one to grip and it takes Smith's glove and loops to Stokes at leg-slip… he takes the catch cleanly high above his head but the ball slips from his grasp as he brings his hand down and it flicks his knee. Shades of Herschelle Gibbs in the 1999 World Cup. The crowd cannot believe it. Stokes can't believe what he has done – his body language was the giveaway, he didn't have full control of the ball as it fell from his grasp like a bar of Imperial Leather in the shower. Wow. A huge let off for Smith and Australia. Scenes here at the Oval. Moeen sends down four dots as the crowd is still reeling at the replay. A single to Smith off the last ball. That is lunch.
What a morning of cricket.
66th over: Australia 238-3 (Smith 40, Head 31)
65th over: Australia 237-3 (Smith 38, Head 31) Wood sends down an over of short-stuff which restricts Australia to a single. There's some drama coming up here…
64th over: Australia 236-3 (Smith 38, Head 31) Moeen gets too straight and is flicked away extremely fine for four runs. A hush descends over the Oval. Australia have stolen all the momentum back here and this partnership rattles into the 60s.
63rd over: Australia 231-3 (Smith 33, Head 31) Shot! Smith drives emphatically for four. Wood went full for a change and Smith leapt on it in a flash. England reeling a bit here, Australia looking more comfortable with every ball.
62nd over: Australia 225-3 (Smith 28, Head 30) A couple of singles off Moeen, England have the field set back, clearly concerned about how quickly this pair have been racking them up. We won't have lunch until 1.25pm btw – due to the late start.
61st over: Australia 223-3 (Smith 27, Head 29) Mark Wood for a final blast before lunch. England look a bit weary, they'll be the more glad of the two teams to get a break. Australia look confident, collecting runs with relative ease. Sharp! Wood thuds one into Head's glove, the batter does well to keep it down and take a single to get off strike. Smith pulls away to the boundary rider for a single. I don't want to give English fans the heebie-jeebies before they settle down for a sarnie but Smith is looking ominously imperious here.
60th over: Australia 221-3 (Smith 26, Head 28) Some shot from Steve Smith, he leans on a full-ish ball from Moeen and threads it with laser-like precision between two fielders in the deep. Close! Sharp turn back into the pads, Smith was a goner without the inside edge of his blade saving him. A tense hush settles over the ground as Moeen ambles in, everyone inside the Oval is rapt by the action. More grip and fizz, this time it goes down the leg-side and the Aussies scamper a couple. The target down to 163 needed for Australia.
59th over: Australia 215-3 (Smith 21, Head 27) Oh my days. Broad beats Head with a jaffa that leaves him at the last only to see his next ball flicked away nonchalantly for four behind square. Cat and Mouse. Stu and Trav. Head tries to hook a nifty bouncer and nearly gets a glove through to Bairstow. The crowd groan, it's been a riveting morning of cricket. Here comes Moeen Ali for a bit of twirl before lunch.
58th over: Australia 211-3 (Smith 21, Head 23) More accurate from Anderson, four dots on a good length are followed by an excellent diving stop by Mark Wood at mid-on to keep Head to just a single. He crunched that. A false shot from Smith off the last ball sees an under-edge trickle to Bairstow.
Feel that collective 'lurching' when it does. What even is this game?
57th over: Australia 210-3 (Smith 21, Head 22) Broad goes a touch too full to Smith and he is crunched away through extra-cover for four. These two batters looking set and dangerous, the ridiculous pendulum swinging once again in this series.
Not now weather!
56th over: Australia 206-3 (Smith 17, Head 22) What's that fluttering sound? It's the butterflies flapping their winds in the guts of 20,000 English cricket fans here at the Oval. Travis Head goes on the attack, a clip off the pads and a punch through the covers bring him back-to-back boundaries and the 200 up for Australia. FlutterFlutterFlutter…
55th over: Australia 198-3 (Smith 17, Head 14) Another good over for Australia, those three wickets got England back into the match but this is far from a done deal. Head gives a timely reminder of the fact by bunting Broad down the ground for four. We've got 30 mins and a crucial period of play heading here into lunch.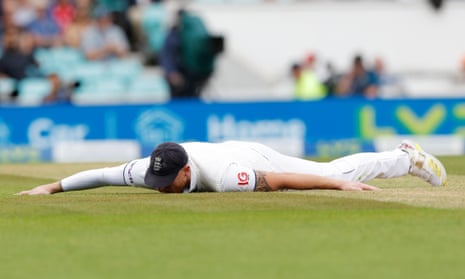 54th over: Australia 191-3 (Smith 16, Head 8) Australia fighting here, Anderson drops short and Head crunches a square cut for four! Two well judges singles make it six of the over and the green 'n gold target ticks down to 193 runs.
"Hi Jimbo, it's amazing how test cricket makes a religious man out of the cynical."
Go on, Liam Grigg…
"Is it possible that God sent the rains to Manchester to spite England for their hubris and failure to accept defeat with good grace at Lord's? But then may have gone a little overboard, so in his remorse sent the rain and a replacement ball that miraculously swings England's way last night? It feels like some cosmic intervention to ensure a drawn series, which is what it deserves.
Yes, I'm obviously Australian but still thoroughly enjoyed the Guardian's OBO feed for the past month and will not know what to do myself after this test is over. Probably sleep."
God Bless ya Liam. Sleep sounds good too…
53rd over: Australia 185-3 (Smith 15, Head 3) Crikey. Broad replaces Wood and his first ball snakes off the pitch like an off-break. That went yards off the surface, beating Head's forward poke by some distance. And again! Broad decks one past the edge and the slips and most of the crowd groan in unison. Head survives the over, somehow, and puts two onto the scoreboard.
Here's some indication of how good that spell by Chris Woakes was. Sublime.
52nd over: Australia 183-3 (Smith 15, Head 1)Jimmy Anderson into the attack, replacing Woakes. You'd think the old master would be able to get the ball talking here. Shot! Steve Smith drives through mid-on for a disdainful boundary, he nailed that. Anderson strays onto the pads and gives away four leg-byes. Eight off the over, Anderson still not at the races judging by that over.
51st over: Australia 175-3 (Smith 11, Head 1) Wood charges in, the crowd roar as he does so. Ooof! Plenty of swing for Wood, Smith does well to jam the bat down on a full ball in the nick of time. The players take a drink – England's morning so far.
Dr Tom Simpson – Respiratory Physician gets in touch with a corker:
"Hi, It is a common misconception that yawning means tiredness or boredom. It's actually a complex physiological process which can indicate imminent expected arousal or change in behaviour. Travis Head was obviously expecting to be walking out to bat very soon…"
50th over: Australia 173-3 (Smith 10, Head 0) Woakes goes full and Smith drives uppishly for four. A puff of dust flew up as the ball pitched in bowler footmarks. Luckily for Smith it was safely in the gap. Thanks for all your emails, I can see them spooling forth.
"Morning Jimbo, hats off to Kumar Dharmasena there for calling wides rather than byes. It was the dreaded seventh ball that did for Marnus. Shades of Freddie getting Punter at Edgbaston in 05"
I was thinking the very same Tim Doyle!
WICKET! Labuschagne c Crawley b Wood 13 (Australia 169-3)
Wild Wood! A bouncer is slammed into the middle of the pitch and it soars away over Bairstow for four wides… GONE! GONE! GONE! Marnus flinches at a good length ball and the edge is snaffled at second slip by Zak Crawley! A huge wicket! England are cock-a-hoop, Wood wheels away arms outstretched.
49th over: Australia 169-3 (Smith 6, Head 0)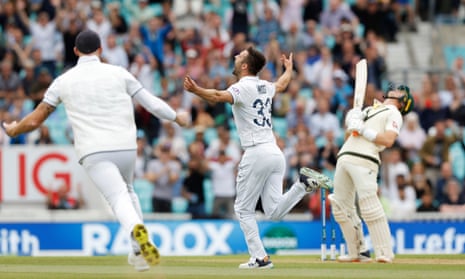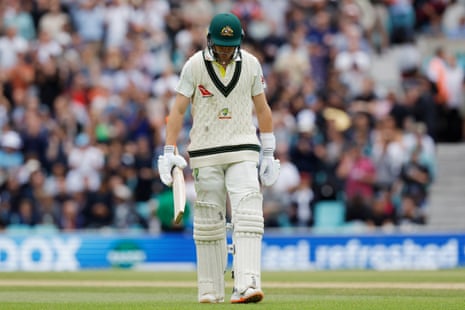 48th over: Australia 162-2 (Labuschagne 13, Smith 6) Woakes once more, he's looked by far the most dangerous of England's bowlers this morning and has two wickets to show for it. He's pocketed 17 wickets so far in the series and only came in for the third Test at Headingley. Remarkable. Marnus tucks a full ball for a quick single. It's got a tad murkier in south London, the floodlights beaming down on the action.
47th over: Australia 162-2 (Labuschagne 12, Smith 6) Wood comes charging in, he gets some steepling bounce that troubles Labuschagne on more than one occasion. His speed is down though, in the 85mph range, bowling fast is so bloody hard.
Some of us are feeling the heat more than others.
46th over: Australia 160-2 (Labuschagne 12, Smith 4) Marnus looks in fine fettle, he clips Woakes through mid-wicket for a well timed boundary. This is the partnership England will be desperate to break – Smith and Labuschagne will be relishing this battle. A streaky drive from Manus gets him two more. A huge cheer goes up around the Oval. Why? Mark Wood is coming onto bowl.
45th over: Australia 154-2 (Labuschagne 6, Smith 4) Great shot from Marnus! Broad goes full and is pumped through extra cover for four. That'll get this ball wet which could hinder the movement England have been able to benefit from this morning. Four byes to the Aussie total as Broad spears one down the leg side that gives Bairstow no chance to get a paw on.
44th over: Australia 145-0 (Labuschagne 1, Smith 4) Steve Smith arrives at the crease with the Oval rocking. Woakes has the ball on a string, moving it both ways off the seam. Eeeesh! Smith gets a thick edge that runs away for four wide of gully. Do not adjust your set.
WICKET! Khawaja lbw b Woakes 72 (Australia 141-2)
Woakes strikes again and Khawaja has to go! Bit of zip off the pitch and thudding into the pads in front of all three stumps. Australia also lose a review as the DRS shows three reds. One brings two!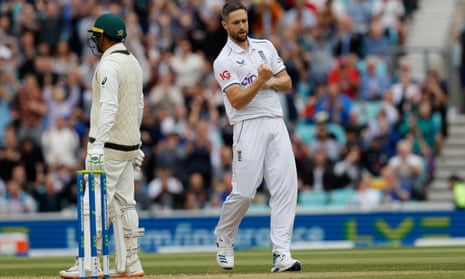 43rd over: Australia 141-0 (Khawaja 72, Labuschagne 1) Plenty of movement on display. Broad gets the ball decking in prodigiously. England get excited by one that moves back into Labuschagne and burn a review. It pitched outside the line. Calm down, calm down.
The crowd gave Warner a nice (seriously) send off as he left the field for the final time in England.
42nd over: Australia 141-0 (Khawaja 72, Labuschagne 1) What an over from Chris Woakes! The Wizard gets a huge ovation as he takes his sweater from the umpire. Marnus arrives at the crease to replace Warner and is beaten immediately by an outswinger! How did he not nick that?! The rain induced rest seems to have done England's bowlers and the wicket a bit of zip. Let's not forget the ball change either…
A clip to leg gets Labuschagne off the mark. The atmosphere is jacked here at the Oval.
WICKET! Warner c Bairstow b Woakes 60 (Australia 140-1)
Gone! Woakes gets Warner with an absolute beauty and England have their first! The Oval erupts, plenty of nervous energy in the celebration from players and fans.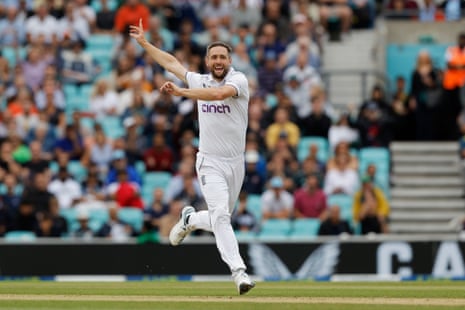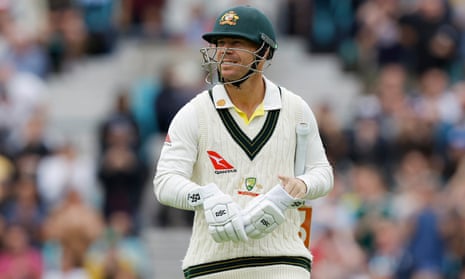 41st over: Australia 140-0 (Warner 60, Khawaja 72) Lovely drive for a couple by Khawaja. Broad is then on the money with five dots, the last of which flies past the edge once more. It's bubbling up here at the Oval.
"Hello from India, James. This weekend, we dropped off our 18yo at university. She was just born just before the 2005 Ashes, and my memories of nappy-changing are inextricably linked to KP, Warnie and others. This current epic series is also tinged with mixed emotions associated with one's child becoming an adult, and preparing to fly the nest."
Ah this is lovely, all the best to you Kandukuru Nagarjun.
40th over: Australia 136-0 (Warner 59, Khawaja 69) Australia open their account for the day, Warner nudging a single off Chris Woakes. Woakes scuds one into Khawaja's pads and it is another huge appeal… NOT OUT. England decide against a review, I think they believe it pitched outside leg. Replays show it might have done, and also that there was sharp movement off the pitch. More signs of life in two overs for England than all of yesterday.
39th over: Australia 135-0 (Warner 58, Khawaja 69) The crowd roar the headband clad Broad to the crease… close! England go up for an lbw that was just slipping down… even closer! Broad beats the edge and stumps with a beauty that decks in an nips away at the last. You couldn't have fitted a gnats eyebrow between Khawaja's blade and the passing ball. There's movement there on first glance, a maiden to start.
Here come the players! Stuart Broad to take the first over. The Oval springs into life!
Revised playing times:
1.10 – 13.25 Morning session
13.25- 14.05 Lunch
14.05 – 16.20 Afternoon session
16.20 – 16.40 Tea
16.40- 18.40 Evening session
98 overs for the day
Last hour will start at 17.40 or 83 overs whichever is later provided there is no further rain.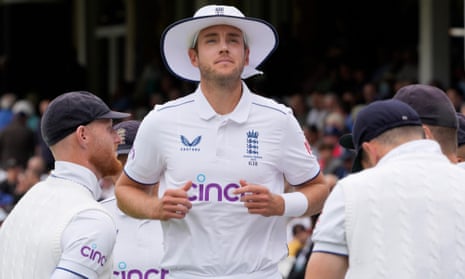 Good news – the rain has stopped and we have some watery sunshine. The rope is being hauled around the outfield and the players are emerging. Crikey, stand by your beds!
"Morning Mr Jim"
Don't mind it Mr Peter Gibbs.
"Have we been rope a doped? Australia have taken everything thrown at them and dare I say it, it looked like they were as capable of winning in Manchester as they are here.. Had England taken their catches and not played some silly balls I might be less suspicious by now but we might have been relying on the weather ourselves last time and maybe are a bit this time too.
Jeeze I hate this. Best summer of cricket in ages. What's is WRONG with us??? Oh me of little faith…"
Fantastic Englishness on display here from Peter.
Hello "long time listener first time caller'" to Paul Dempster:
"Hi James, currently sitting on the platform at Brussels waiting for a very delayed Eurostar to depart. I bring news from the Australian newspapers, which I have followed while on holiday over here. The punters in the comments sections in those papers seem to all think that Australia will lose by virtue of being too soft, too woke, too unlike Allan Border (whatever that means to them).
This seems to ignore the fact that Cummins et al have retained the urn in England, just a few weeks after winning the world test championship. I'm glad to see the weird reactionary strain of Cultural Cringe Australianus found mainly among older male sports fans continues aplomb in my absence.
Hoping for an Australian victory today not because it would mean a series victory, but mainly in the hope that those sorts of people might look inwards for a minute or two.
Thanks for the summer of OBO, and enjoy the limited overs matches against NZ and Sri Lanka!"
It's a sentiment shared by a good few of you, and it is an understandable take.
"Hi James,"
Hello to you Tim Beechey.
"As an Australian I have found the whole bazball thing quite irritating because of the odd attitude of entitlement and hypocrisy that has seemed to go with it. But the more I hear about how this style of play is supposedly saving test cricket (and one English commentator quipping that the Australians are trying to destroy test cricket) the more I wonder what will we be left with if bazball truly becomes ascendant? Should test cricket just be multiple one day innings stitched together? Isn't part of the challenge and attraction of test cricket the strategy: pacing the game knowing that if you're too quick you leave your opponent with plenty of time to win? Seems like saving chess by substituting the playing of a few games of checkers."
Tim is never wrong.
Back to Barney's piece – this line made me snort into my skinny oat decaf flat white* this morning:
At times England's bowling lineup looked like what it is here: a TV pundit, an injured bloke, an injured radio summariser, a dutiful wizard, an ageing red-zoned speed freak and a 41-year-old celebrating his birthday.

*
Mizzling again at the Oval, punters sheltering wherever they can. It's the sort of rain that a Dinnerlady of your youth would have absolutely no qualms about marching you off the playground and into the nearest classroom for. We'll have a delayed start here.
Lovely, this. I reckon this side will keep you entertained for a few years yet.
Some punchy pre-play reading here from Barney Ronay:
Then, of course, Stuart Broad turned Sunday here into a Stuart Broad story, right from the start when he was sent out to hit a final commemorative six. Was this the right stuff, really, for the sharp end of the series, the guard of honour energy, the weirdly sensual and sombre Sky TV homages, as though covering the death of a much-loved global statesman in a suicide pact with the Blue Peter dog.
And really, why not just retire the day after the series ends? It is hard to imagine a more distracting way of doing this, a day of potentially era-defining Test cricket recast as the launch of a new media brand. There will be cries that one of England's great Test bowlers needs a chance to wave goodbye. But why? This is not the Love Island finale. It's a brilliantly engaging Test series with a knife-edge finish to come. Spare us the Viking funeral, just for now.
As ever, please do get in touch – the OBO is nowt without its readers. You can drop me an Email or tweet @Jimbo_Cricket with any thoughts – nuanced or simply BANG wrong – the mailbag is open to all. Within reason. I'm looking at you. Yes you.
Let's do a little reflection, what have been your moments of the series?
Good news – it is brightening up a little here at the Oval. The Aussies are out on the field doing some soccerball shenanigans, England are doing a bit of catching practice. Just so bloomin' orthodox these guys.
Bad news – we're all going to be put through the emotional mangle for one last time. Wouldn't have it any other way?
TMS Overseas link is here:
https://www.youtube.com/watch?v=KPhb67yIzAY – I'm good to you, aren't I?
Preamble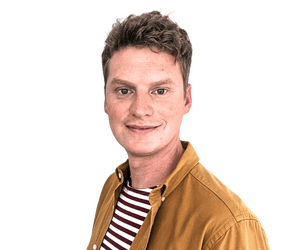 James Wallace
Hello and welcome to the final day of Ashes cricket 2023. Remember that sun soaked day at Edgbaston back in mid-June? Feels about 22 years ago now… which coincidentally is the last time Australia lifted the urn on these shores.
Pat Cummins and his men need 249 more runs to pull off what would be an incredible victory and take the series emphatically 3-1. Ben Stokes and co require ten wickets to level it 2-2. It's all boiled down to this final day in south London. It promises to be wild whatever happens… unless the weather intervenes (again).
It is currently – official term – mizzling at the Oval. It is very grey and dark too. We've got 50 minutes til the start time at 11am and the skies could well have cleared by then but I wouldn't fancy them starting in these gunmetal conditions.
The forecast isn't too bad actually, my sources tell me there should be plenty of play across the day. Here's hoping.
All results are possible then as we step for one final time into the breach. Here, take my hand, let's jump in together.