A judge messaged colleagues to say he couldn't make work tomorrow after he "lost it" and killed his wife, according to prosecutors.
Jeffrey Ferguson, 72, is said to have drunkenly texted a court clerk and bailiff minutes after the alleged murder, telling them: "I just lost it. I just shot my wife. I won't be in tomorrow. I will be in custody. I'm so sorry."
The couple were arguing at a restaurant on 3 August and the row continued when they got to their home in Anaheim Hills in California's Orange County, court papers claim.
The judge is said to have pulled a pistol from his ankle holster and shot his wife Sheryl after she said something to the effect of: "Why don't you point a real gun at me?"
The couple's adult son called 911, according to the court filing, with Ferguson smelling of alcohol when police arrived and telling them: "Oh man I can't believe I did this."
A total of 47 legally owned weapons and 26,000 rounds of ammunition were found at his home.
Ferguson has been charged with murder but was freed a day after the shooting on $1m (£787,000) bail – as prosecutors try to get him to surrender his passport and guns and wear an ankle tag.
Read more from the US:
At least 67 killed in Hawaii wildfires
Disgraced 'crypto king' sent to jail
Prosecutors want January trial for Trump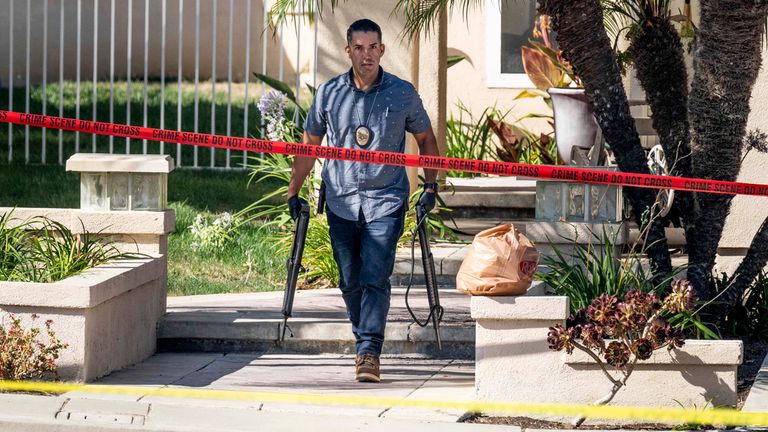 Ferguson's lawyers issued a statement calling it a "tragedy for the entire Ferguson family" and said "it was an accident and nothing more".
Ferguson has been a judge since 2015 and deals with criminal cases in the Orange County city of Fullerton.
He will next appear in court for his arraignment on 1 September.