Key events
89 min With football now clinically insane, there will be talk tonight about Eddie Howe being under pressure. He still has so much credit in the bank that it would be absurd to even consider sacking him. The fact it will be spoken about is still pretty irritating.
88 min: Brighton substitution The quietly excellent Pascal Gross is replaced by Simon Adingra.
87 min Trippier's free-kick is headed towards goal by Burn beyond the far post. Verbruggen makes a comfortable save.
86 min Milner is booked for a gratuitous foul on Gordon, one last gesture to the Liverpool fans.
85 min Apart from a lack of blistering pace, it's hard to see a flaw in Evan Ferguson's game. He's tactically aware and can already play as a 9 or a 10; he moves off the ball and rolls defenders like an old don; he's tall, strong and scores all types of goals; his temperament is apparently rock solid. In football terms, he's like a bouncer who can also outwit you. He's 18.
83 min Lamptey is fouled by the lunging Schar, who's on a yellow card, but he stays on his feet and charges into the area. The attack peters out and it's Lamptey who is booked for an overzealous challenge.
81 min: Double substitution for Brighton James Milner and Adam Lallana replace Solly March and Evan Ferguson, who gets a standing ovation from an adoring home crowd. This time last year he was playing for Brighton Under-21s at Colchester in the Football League Trophy; now he's scoring hat-tricks against Champions League teams.
78 min A flurry of challenges on the halfway line ends with Trippier, Fergusn and Estupinan on the floor. It's like Reservoir Bloody Dogs out there. They all seem fine – Ferguson is limping a bit but I think it's an impact injury rather than anything more serious.
77 min: Double substitution Tariq Lamptey and Mahmoud Dahoud replace Billy Gilmour and Joao Pedro. They were both outstanding; in fact that might be Gilmour's best performance for Brighotn.
76 min Dan Burn, who has been schooled by Ferguson, makes a bad night even worse by getting booked for pulling back Solly March.
74 min: Double substitution for Newcastle Harvey Barnes and Jamaal Lascelles come on for Alexander Isak and Matt Targett.
74 min The third goal has been awarded to Evan Ferguson, which means he has officially scored his first Premier League hat-trick. It's delightful moment for a brilliant and thoroughly likeable kid.
73 min The world is a complete mess, and then there's Brighton & Hove Albion.
The shot took a huge deflection off Schar and wrongfooted Pope. Was it on target and therefore Ferguson's goal? I reckon it was, though I'd like to see a few more replays before putting the farm on it. Ferguson received possession on the edge of the area, took a touch and swept a left-footed shot that hit Schar and flew into the net. Roberto De Zerbi, who has managed Ferguson so brilliantly in the past 12 months, punches the air with delight.
GOAL! Brighton 3-0 Newcastle (Ferguson 70)
And now, Dubious Goals Committee or whatever they're called these days notwithstanding, he has his first career hat-trick!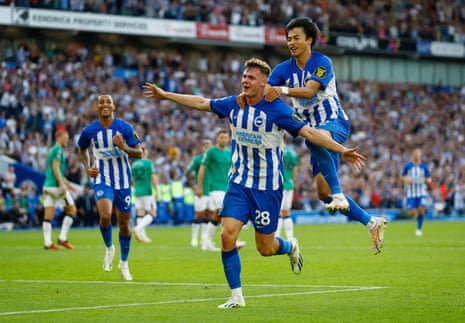 70 min Trust me, there's no catch with Evan Ferguson. He has it all.
68 min Targett is booked for something or other.
67 min Newcastle have an immediate chance to get one back, but Gordon drives Anderson's cutback wide from 15 yards. He's had a bad night.
It's another lovely goal to add to Ferguson's impressively varied portfolio. He dropped deep to receive a straight pass from Gilmour, 35 yards from goal. Burn, sick of being turned with ease by a teenager, decided to stay at home this time. That allowed Ferguson to turn into space, open his body and curl a precise shot that bounced past the diving Pope and into the right-hand corner. He didn't hammer it, by any means, but it could barely have been more accurate.
GOAL! Brighton 2-0 Newcastle (Ferguson 65)
Evan Ferguson is 18 years old.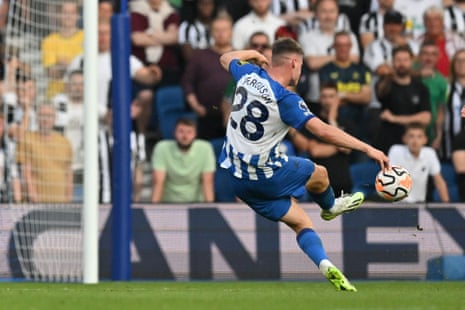 63 min "Sounds like it was a fun first half," says Rob Knap. "De Zerbi was compared to Zdenek Zeman when managing in Italy. They both managed Foggia, but it was more about the approach. And most notably, their teams simply scored a lot and conceded a lot. Losing 5-1 at home to Everton in 2023 is not quite losing 8-2 to Milan in the context of 1990s Serie A, but it's Zeman-like in its madness. I doubt De Zerbi is going to try and close this game down now they have a lead… More generally, it's going to be fascinating watching De Zerbi from here."
I was fascinated by that Foggia side, especially Igor Shalimov and the front three. For those not familiar, look at their record (goals for and against) in the first season after they were promoted to Serie A. This was the last year before the backpass law, so goals were still a rare event.
61 min Trippier's inswinging corner is punched away effectively, if not entirely convincingly, by Verbruggen. That might be a way in for Newcastle, who have some abundant units on the field.
60 min Mitoma forces another error from Trippier, though Estupinan can't take advantage. Brighton are playing so well tonight.
58 min: Triple substitution for Newcastle Sean Longstaff, Elliot Anderson and Callum Wilson come on for Joelinton, Sandro Tonali and Miguel Almiron. All had games to forget, though Tonali was okay in patches.
57 min Ferguson beats Burn with a delightful bodyswerve. Targett comes across to make an important interception and is taken out by Ferguson. I know I'm mildly obsessed, but Evan Ferguson is phenomenally accomplished for an 18-year-old.
56 min March's corner is just too high for Ferguson at the back post. It brushes his head and goes behind for a goalkick.
55 min March wins another corner. Newcastle aren't at the races.
54 min Trippier tries to pass the ball out of his own area… with hilarious consequences. He gives it straight to Joao Pedro, but makes partial amends by tracking him across the area. Joao Pedro tries a backheel to Ferguson but doesn't connect properly.
54 min "Brighton need to up their game and get one of theirs sent off," says Ian Copestake. "Beating Newcastle with 11 players is so the week before last.
'One of theirs.' Ray Winstone over here.
52 min Joao Pedro has an acrobatic volley blocked, though I think there was an offside in the build-up.
52 min Ferguson spins Burn like an old don, not for the first time tonight, but then he overhits his through pass to Joao Pedro.
51 min Brighton work the ball classily down the right, only for March to overhit his pass into the area for Ferguson.
48 min Better passing and movement from Newcastle, who keep the ball for a long time until Tonali's cross is cleared.
47 min "For all the excitement and hipster love Brighton have generated over the last season or so, it isn't all that long ago that the pre-injury Tariq Lamptey was their shiniest talent – of a Reece James level," says Geoff Wignall. "If he can recover that form they'll be a very decent side indeed: top six at a minimum."
He was so exciting in his first few months at Brighton; he's only 22 so hopefully he can get back. They'll need every player they've got with this season's schedule.
46 min Peep peep. Newcastle begin the second half; no changes on either side.
Half-time quiz
Half time: Brighton 1-0 Newcastle
Brighton – lovely, life-affirming Brighton – are doing it again. They have outplayed Newcastle and lead through a sniffer's goal from the superb Evan Ferguson. His partner in elusivity, Joao Pedro, was also terrific, as were the little-and-little midfield duo of Billy Gilmour and Pascal Gross.
Newcastle made a flying start, pressing Brighton furiously and creating a couple of opportunities for Alexander Isak, but as the half progressed they were increasingly compliant. At least they know from bitter experience that you can be 1-0 down at half-time, having been outplayed, and still end up with three points.
45 min Only two minutes of added time, mainly because Brighton have spent most of the first 45 passing the ball to one another.
45 min Gross seems to be fouled just outside the D by Joelinton, but Stuart Attwell says play on. Actually there weren't too many appeals from the Brighton players, so maybe I'm the problem here.
44 min Gross's outswinger is headed well wide by Dunk, under pressure near the penalty spot. He seems annoyed with himself, though it was about a tenth of a chance at best.
44 min The resulting free-kick is headed behind for a corner by Gordon. It took a while for Brighton to exert control, but in the last 20 minutes or so they've been much the better side.
43 min Schar is booked for a foul on Joao Pedro, who has had a fine first half. He'll be off for £450m in 2027.
39 min A better spell for Newcastle, with Isak having a shot blocked on the edge of the area.
38 min Talking of great young footballers, here's the most terrifyingly precocious of them all. If he continues his development at this pace he'll be entering the Champions League and World Cup on his own by 2030.
35 min Newcastle are struggling to deal with Joao Pedro and Ferguson, who at times are both playing as false nines. Ferguson drops deep to start another move than ends with Estupinan misplacing a cutback.
33 min Tonali hammers a low cross that just evades Gordon at the near post. This is a high-quality game.
31 min "Can't help thinking that Newcastle will not do as well this season as is being predicted," says Richard Hirst. "Their defence is their weak point; much as I love Dan Burn and Matt Targett as former Fulham players, I really can't see them cutting it in the Champions League, and coping with the CL will be a big ask for the team as a whole. The fact that Eddie Howe is already becoming a caricature of Eddie Howe is indicative."
The number of games would worry me the most. That and a potential long-term injury to Sven Botman. Eddie Howe has done such a good job, though, and whatever happens he deserves to be in charge at the start of next season. (He won't be if it goes wrong.)
29 min: Chance for Brighton! I can't keep up with all this excitement. Ferguson beats Burn majestically in the centre circle, gallops forward and finds Mitoma to his right. He plays in Joao Pedro, who pokes a first-time shot over the bar from 15 yards. That was a really good chance, which started with some more unnervingly mature play from Evan Ferguson. He has such range to his game.
28 min At the other end, Joelinton makes space in a phonebox but then shoots wide from 16 yards. I can't decide whether Pope should have held Gilmour's shot that led to the goal. It was straight at him, but it was viciously struck and probably moved in the air. I guess a keeper of his class probably should have held it, or at least pushed it out of danger.
Pope ran out of his area on the right and miskicked a clearance straight to Estupinan. He beat a man and played in Mitoma, whose shot was very well saved with his left foot by the recovering Pope.
Gilmour ran onto the loose ball, 30 yards out, and cut across a sizzling rising drive. Pope couldn't hold it and Evan Ferguson gobbled up the rebound from close range.
GOAL! Brighton 1-0 Newcastle (Ferguson 27)
Evan Ferguson gives Brighton the lead after a double mistake from Nick Pope.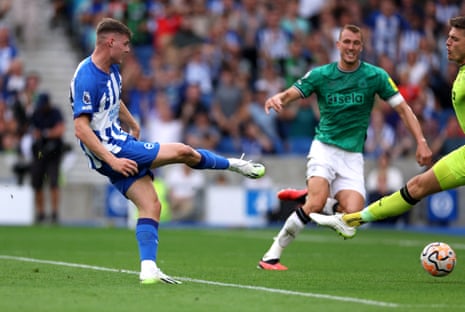 26 min Schar drives a long ball over the top to Joelinton, who makes a lovely run but can't quite control the ball on the chest.
25 min Newcastle will be happy that, although Brighton have dominated possession, Nick Pope hasn't had much to do.
22 min Gordon is booked for a late tackle on Van Hecke.
19 min Gross's very deep corner is nodded back across goal by Dunk and headed partially clear at the far post. Newcastle eventually complete this particular defensive job.
19 min Mitoma's shot hits Tripper and spins behind for a corner. He was found by Joao Pedro, who is taking up some excellent positions between the lines.
19 min Good game, this.
18 min Newcastle break through Gordon, who releases Isak in the inside-right channel. He beats Dunk coolly in the area but then cuts the ball back behind Gordon, the only player who was up in support.
17 min Joao Pedro surges menacingly into the area, then falls over in slow motion after bouncing off a defender and losing his balance. It wasn't a dive, but nor was it a foul.