Air Liquide Stock: Delivering Value To Shareholders (OTCMKTS:AIQUF)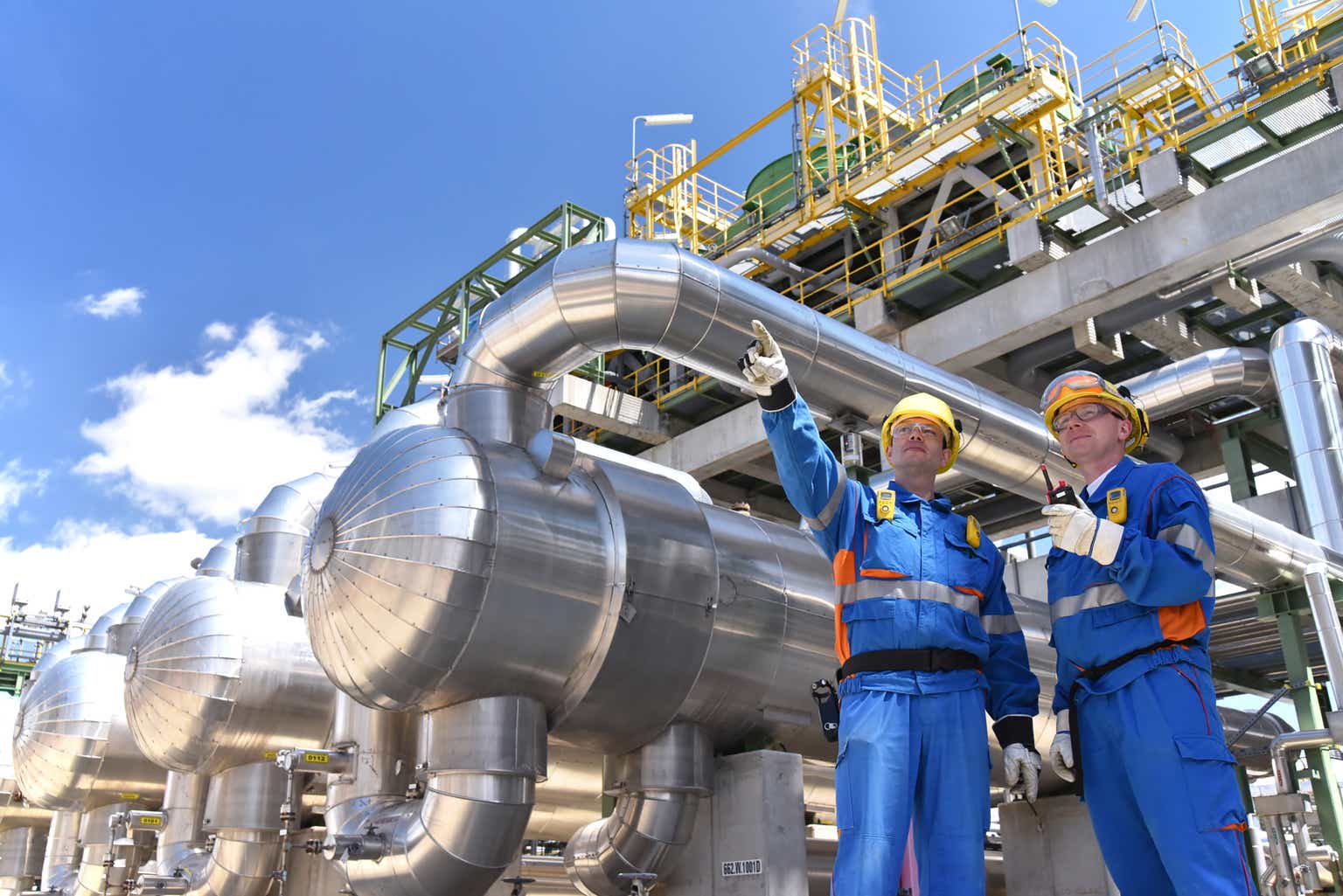 After having participated at Air Products and Chemicals Bank of America's 2023 conference, today we decided to deep-dive into Air Liquide (OTCPK:AIQUF, OTCPK:AIQUY). Here at the Lab, we positively view the specialty gas sector, and (for various investment reasons) we have a long-standing buy on the three companies within our coverage: APD, Linde, and Air Liquide. In 2022, we also provided an update called Air Liquide Is Set For The Long Run reporting and commenting on some pushback from Wall Street analysts and our readers. Related to our buy rating, our internal team was confident over the short time as well as the medium-term horizon thanks to 1) the Air Liquide solid order backlog, 2) a strong pricing power, 3) the company's Hydrogen Mobility Opportunity 4) a favorable environment towards CO2 and green opportunities 5) positive regulatory frameworks especially in EU, 6) a solid EVs growth supported by OEM BEV targets (original equipment manufacturer such as Volkswagen), and above all, 7) a compelling valuation vs its peers.
Here at the Lab, we expect that Air Liquide will be a top beneficiary of public EU green subsidies. Our previous analysis suggests that the recently announced EU Industrial Green Plan could significantly stimulate the company's total addressable market for green gases and increase its annual group core operating profit by more €1.5 billion per year over the next decade (currently, it stands at approximately 31% of Air Liquide 2022 EBIT). The EU Commission with its strategic plan called Net-Zero Industry Act will identify and propose funding support to achieve net-zero industrial capacity. The President of the European Commission Ursula Von Der Leye explained that: "we have a once in a generation opportunity to show the way with speed, ambition, and a sense of purpose to secure the EU's industrial lead in the fast-growing net-zero technology sector. Europe is determined to lead the clean tech revolution". In Air Liquide valuation, this opportunity represents an estimated equity value of €15 billion which is equivalent to €28 per share and we are also confident that the US IRA implies a similar value amount so in total, this could represent a €56 value per share combing the 2 plans. Our current buy target set at €190 with a 28% upside already incorporates this value uplift. As a reminder, the company currently owns almost 85% of the hydrogen pipeline network in Europe and this is an insurmountable barrier to entry.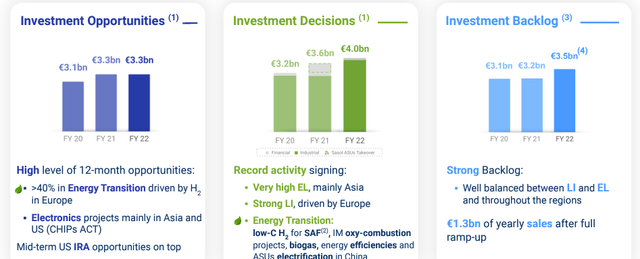 Q4 results and the ADVANCE plan development
The company delivered another year of earnings growth. Top-line sales reached €29.9 billion and were up by 7% on a comparable basis. Excluding the energy impact, the company's core EBIT margin increased by +70 basis points and the recurring net profit by +17% (Fig 1). Once again, this demonstrated AL's operating leverage and management ability to generate significant synergies estimated at almost €380 million. On a cash flow basis, the company managed to increase its FCF generation and lower its debt obligation (while investing for growth – Fig 2). For the above reason, the company increased its DPS by 12.2% at €2.95 per share. In the current year, the company will continue to roll out its strategic plan called ADVANCE. The three-year plan launched in 2022 is already one year in advance looking at the financial and extra-financial performance (Fig 3).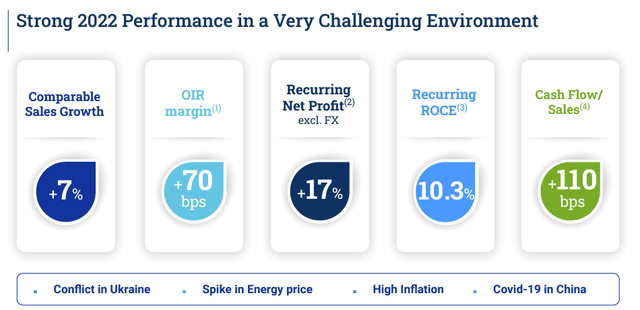 (Fig 1)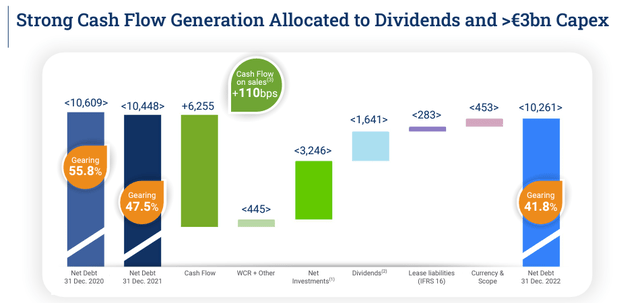 (Fig 2)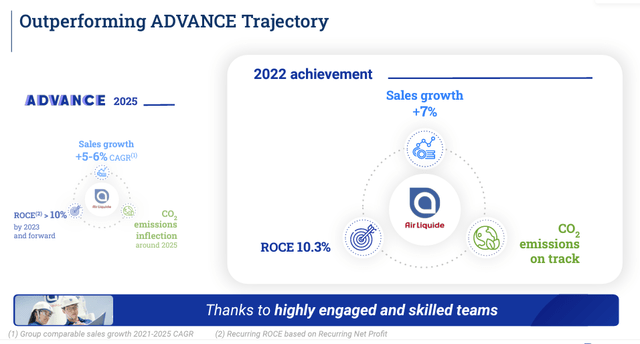 (Fig 3)
Conclusion and Valuation
No change in our valuation with the next catalyst on the 27th of April. Here at the Lab, we believe that Wall Street is underestimating 1) the company's growth potential, 2) AL's solid balance sheet that allows increasing dividend and CAPEX, and 3) a margin improvement (due to the raw material inflationary slowdown) – we are again confirming an increase of 70 basis point at the core EBIT compared to flat estimates on sell-side equity research analysts. In addition, the company is trading at 11.5x on 2023 EBITDA estimates with a 21% discount on Linde. The multiple implied by Mare Evidence Lab's target price is 13.6x (in line with the company's historical average pre-COVID-19 level), and we believe that better reflects Air Liquide's growth, returns, and risks. Downside risks to our target price include management's ability to increase the price over costs, energy transition projects delay, lower IRR on new investment CAPEX, and higher competitive pressure over the long run.
Editor's Note: This article discusses one or more securities that do not trade on a major U.S. exchange. Please be aware of the risks associated with these stocks.